The bike rental
The unique bike rental in Vienna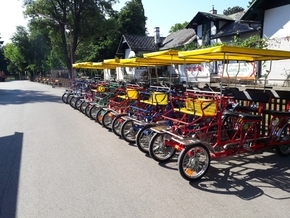 Bike rental, service and roadside assistance! Vienna's oldest roller coaster offers bike rental in all sizes for the entire family.
Whether a lady, gent, child, BMXer, couple, or family - the selection is particularly large. For romantics, cycling for two is possible as tandems and rickshaws are available.
In addition to the roller coaster, our family-friendly company also operates a unique bike rental in Vienna - about 300 bicycles are available. Bike rental for the whole family:
Woman and man bicycles
BMX
children bicycles
City and Mountain Bikes
rickshaws
Chopper
tandems
Tret-Mobile
Child seats for free! Package prices for schools, teachers free.
Roadside assistance / spare parts: Also at the weekend
Bicycle service: small: EUR 30, - / large: EUR 60, - (including cleaning, without material)
Rickshaw sale